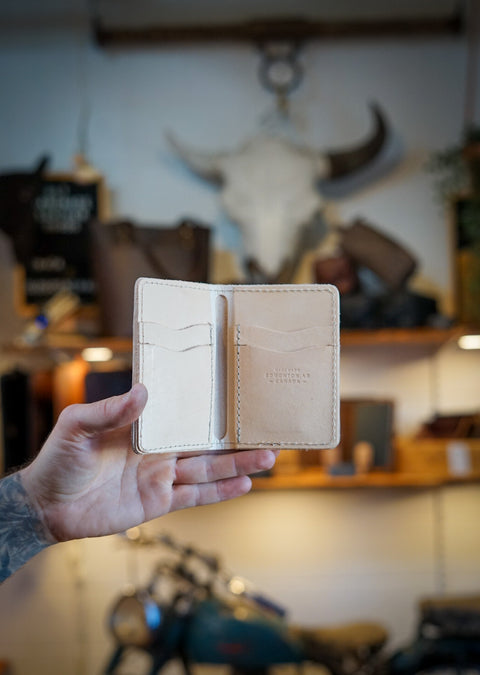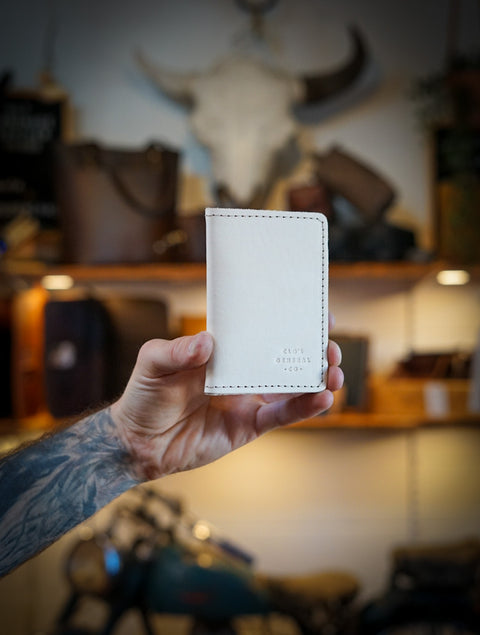 Clo's General Leather Co
Mini Trucker Wallet (Natural Veg Tan)
Each wallet is mindfully handmade from 3 - 4 oz full grain (natural veg tan) leather in Edmonton, AB.
The mini trucker wallet contains four card slots and can hold 8 - 12 cards.
Behind the card slot there are (double) inserts on either side that can be used for folded cash and/or receipts.
If you would like to personalize your wallet with up to three initials embossed (free of charge) on the interior pocket please leave us the details as a "note" at checkout.
NOTE: Watch this product turn from light to dark and rich in colour after plenty of time and use.
Natural Vegetable-tanned leather refers to the tanning method of tanning the cowhide into leather. It is called "vegetable" because of the natural materials used in the tanning process like tree bark and saps. Veg tan is one of the oldest methods of tanning known and is a shop favorite.
Dimensions:
4.5" Tall X 3.5" Long (When Wallet is closed)
4.5" Tall X 7" Long (When wallet is opened)